RESPONSIBLE use of FOREST resources

High quality is proved by certificates CE EN 636-2S/3S, CARB P2 ULEF, FSC

Optimal terms and time of delivery

Fast manufacturing of your orders

Responsible use of forest resources
GROUP DELTA INVESTMENTS
(GDI) – the leading manufacturer of large-format birch plywood in the Nizhny Novgorod region.
Products are produced uses modern and highly efficient equipment RAUTE, PLYTEC, CREMONA, VALON KONE, TAKAYAMA.

Used a glue, based on phenolic resin produced by METADYNEA

The high quality is confirmed by CE EN 636-2S/3S, FSC, EPA TSCA Title VI certificates.

Over the years, the company has earned a reputation as a reliable supplier of high-quality birch plywood for export and domestic market.

We provide high level logistic and customer service.
PRODUCTS
Exterior Birch Plywood and Film Faced Plywood is a high-quality construction material with high durability and moisture resistance.
Due to use of a unique recipe glue (based on resin Primere 14J by Metadynea), Film Faced Plywood keeps its characteristics under conditions of high humidity, retains it's shape and resists to high dynamical loads. It can be successfully applied for internal and external use.
OUR CERTIFICATES
Click on the certificate to open it.
Exterior WBP plywood has the following advantages: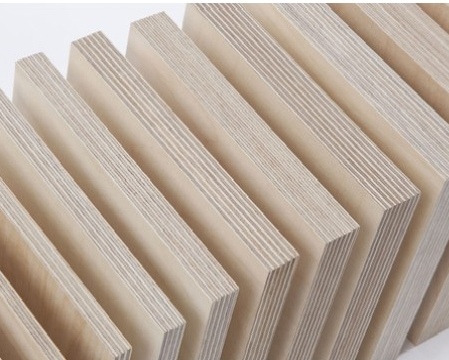 Water-resistant plywood WBP possesses the following advantages:

Higher resistance to mechanical failure and wear

High durability in folding and ripping

High water-resistance

Ability to remain its operational characteristics in humidity and temperature changes

Ease of handling

Convenience in processing

Perfect compatibility with other building materials

Controlled humidity
FILM FACED BIRCH PLYWOOD FW "HEXA"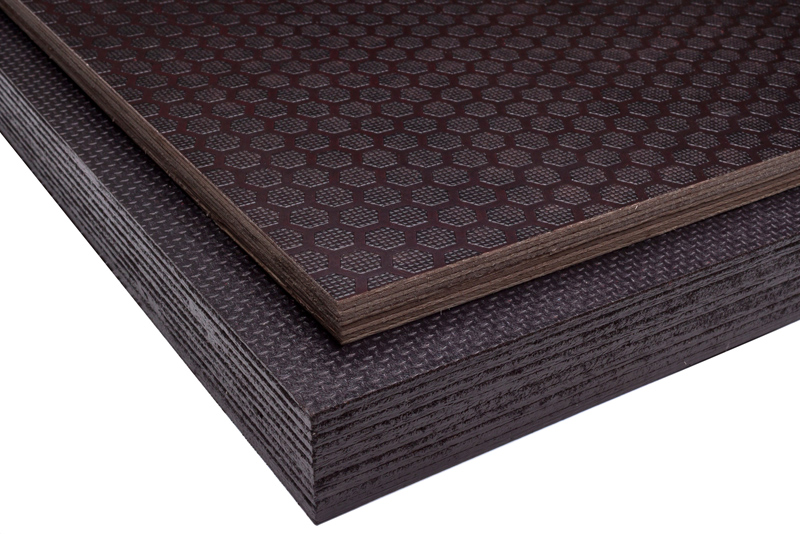 Is made of specially prepared high-grade WBP birch plywood by applying a phenolic film to the surface. Thus, the plywood gets a permanent protection against moisture and external mechanical wear. GROUP DELTA INVESTMENTS produced laminated plywood has an anti-slip coating with hexagonal "HEXA" texture, reminiscent of honey cells, which, in addition to excellent anti slip properties, has increased wear resistance, confirmed by laboratory tests. "HEXA" also has enhanced water repellency vs. to conventional "RICE" coating, because the integrity of the phenolic film in production is not damaged. The coating also makes cleaning much easier and has an very attractive appearance.
RAW MATERIALS
The lower part of the trunk of a birch – raw materials for the production of plywood. This should be a very high quality timber without knots with a diameter of from 200 to 350 mm and a length of 5-6 meters. It is sawn on "logs" of 1300mm and then the RAUTE Smart peel 4/5 is making the veneer with thickness of 1,5 mm.
ExteriorWBP plywood is used in the following areas:
Interior and exterior trimming of premises of different purposes. Plywood WBP is a stuff of higher durability and water-resistance, and due to that is used in construction, especially in rooms with high moisture.

Sheathing. In construction the WBP plywood is widely used as the material for sheathing construction for pouring with concrete. In wall construction and roofing such a kind of plywood is also very popular.

Machinery industry, shipbuilding, aircraft building, rail craft building. Plywood WBP is indispensable for making of thermic panels and body constructions with heat-isolated materials, septa and bulkheads in shipbuilding and other fields of transport engineering.

Manufacturing of package and components. Exterior plywood is used for boxes, pallets, trays and other items for logistics.

Fabrication of big-sized outdoor billboards. WBP plywood is highly called-for in advertising field due to its resistance against atmospheric forcing
Film Faced HEXA Plywood is used in the following areas:
Production of concrete forms in cast-in-place construction

Construction of playgrounds

Manufacturing of decking in scaffolding

Manufacturing of floors in vans and trucks

Manufacturing of furniture, retailing and warehousing equipment

and much more…
"GROUP DELTA INVESTMENTS" LLC has been specializing in producing and wholesales of the plywood, and has taken during this time a reputation of a reliable supplier of birch WBP and HEXA plywood and also of bakelized plywood to export markets and within Russia.
Birch Bakelized plywood FBV
Bakelite plywood possesses unique physical-mechanical properties: higher moisture-resistance, capability of withstanding very high loads and durability, longevity. Operational characteristics of this kind of plywood are much higher than plywood WBP has.
Material for production of FBV plywood is the same as for plywood WBP, rotary-cut veneer. The peculiarity is that veneer is impregnated beforehand by glue based on resin "Prefer 14J" produced by METADYNEA, is dried with lower temperature, and only after that panels are assembled and baked in a press. The level of pressing-in during manufacture of FBV plywood is 5 times higher than of WBP plywood. Due to adjusted production techniques, the bakelized plywood FBV is applicable for usage in conditions of marine and tropical climate and possesses considerable resistance to aggressive environment.
Characteristics of Bakelized plywood
Is made from birch veneer of 3 grade, glued together in mutually perpendicular direction of fibers with glue based on resin Prefer 14J for FBV;

Internal layers go through a joint-making line;

External layers go through the line of rib gluing;

Thickness of plywood: 7-21mm

Shear strength on the adhesive layer after boiling for 2 hours – not less than 1,76Mpa

Size 1220x2440mm

Tensile strength along outer layers' fiber direction, not less than: for thickness 7mm – 88,0 MPa; for

Thickness 10,12,14,16 mm -73,5MPa

Static bending strength, not less than: across outer layers' fiber direction – 78,5 МPа, along outer layers'

Fiber direction – 117,5 МPа

Shear strength on the adhesive layer after boiling for 2 hours – not less than 1,76Mpa

Density not more than 1200 Kg/m3

Formaldehyde emission class E1
Area of application of plywood FBV:

Shipbuilding. Plywood FBV is applicable for bulkheads, septa, deck constructions for different purpose

Machinery industry. Plywood FBV is of demand in laying floors, boards.

Fabrication of outdoor billboards. Bakelite plywood has long-term resistance to the external environment influence, and this allows saving significantly marketing budgets.

Construction. In this field plywood FBV are used for sheathing, roofing, making shelves, etc.
"GROUP DELTA INVESTMENTS"
LLC offers bakelized plywood of the size 1220x2440mm 7, 10,12,15,18,21 mm thick. Plywood is packed in fluting cardboard. The volume of crate is 1,2 m3.
| Thickness | 7mm | 10mm | 12mm | 15mm | 18mm | 21mm |
| --- | --- | --- | --- | --- | --- | --- |
| Number of layers | 7 | 11 | 13 | 15 | 19 | 23 |
| Divergence, mm | 5 | 7 | 9 | 11 | 13 | 15 |
IMPORTANT:
During manufacture of bakelized plywood veneer plies (internal and external next nearest) are impregnated with glue, and with high level of pressing-in it results in the parameters of the product exceeding the standards of GOST 11539-2014.